Compact Mobile HDD video recording system with tamper-proof case.
This core system unit has been designed with both low cost AND reliability at its heart.
We have developed a system of excellence, typically operating in the boot of a vehicle, a most hostile environment, with a temperature range between +40˚c and -10˚c. That said, the system is capable of withstanding a temperature range of between -10c and +60c. Our mobile CCTV system has met all international standards for excellence, including European CE standards.
Technologically, the product is leading edge – completely digital and solid state – making it one of the most reliable systems in the sector, with many units running for 6 years continuously having been reinstalled numerous times as drivers change their vehicles.
Our system provides genuine 2k HD high definition, not 720p as is the case with many other systems. High definition video & audio recordings are essential when being called as evidence.
Solid state drives (SSD) or SD cards mean there are no moving parts, which can be subject to failure with repeated road use shock.
In-vehicle HD cameras with microphone – up to 4 can be configured per installation.
The 4eyez Taxi CCTV cameras are unique in this application sector. The video codec literally lives in the camera head, making the camera head larger than most but, importantly, allowing the system recording unit to be very compact by comparison. The smallest of the 4eyez systems is about the size of 2 decks of playing cards. Drivers love this because it is less intrusive, installers love this because it is easier to install, taking up less space and Councils/data controllers love it because it is easy to work with. And we at 4eyez love it because it is ultra reliable, making our system among the most reliable in the market.
The camera heads have microphones inside the head of each camera with the signal being turned on and off either by the LED warning array/panic button or but an audio specific button. Both are clearly labelled for both driver and passenger alike. In the UK it is illegal for Taxis to have audio on CCTV systems on all the time. This means that most dash cams are illegal by default.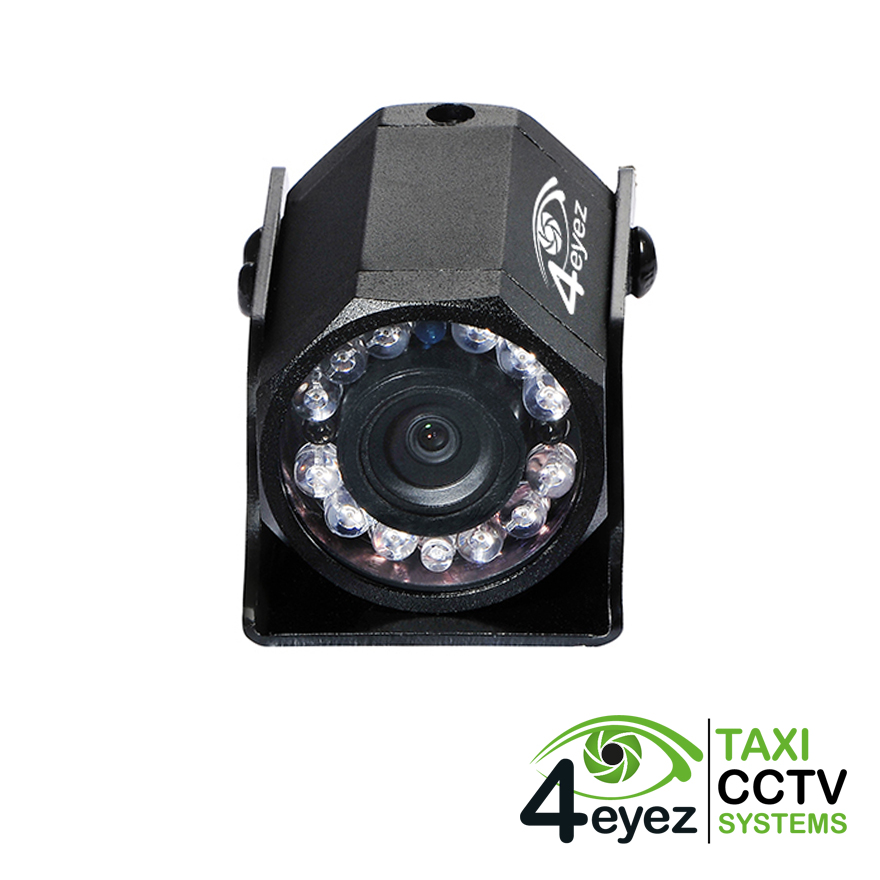 Digital time recorder – using GPS for accuracy but without location data.
Change to Our taxi CCTV system operates with a GPS sender – on turning on, the system, via the GPS sender, reconciles date and time with the GPS time/date clock. This way the time and date are never wrong and provides the highest degree of confidence in the accuracy of the recorded data as evidence.
System status display with optional audio-on override
The 4eyez Taxi CCTV system also incorporates an essential feature not found on its competitors system – a system health LED array of warning, system on and recording status lights. This system literally tells the customer and passenger alike if the CCTV system is running, or not, by way of a series of lighting sequences. Simple really, if there is a fault, the system tells the driver by flashing red.
Linux based system-on-a-chip firmware – developed in the UK to ICO compliant standards.
The 4eyez taxi CCTV system operates with system-on-chip (SOC) type firmware, which can be upgraded for different system installation criteria. This allows the 4eyez system to be ultra flexible and able to suit any specification. The application has been developed in the UK with the help of our technology and manufacturing partners.